Under Armour's Uncertain Future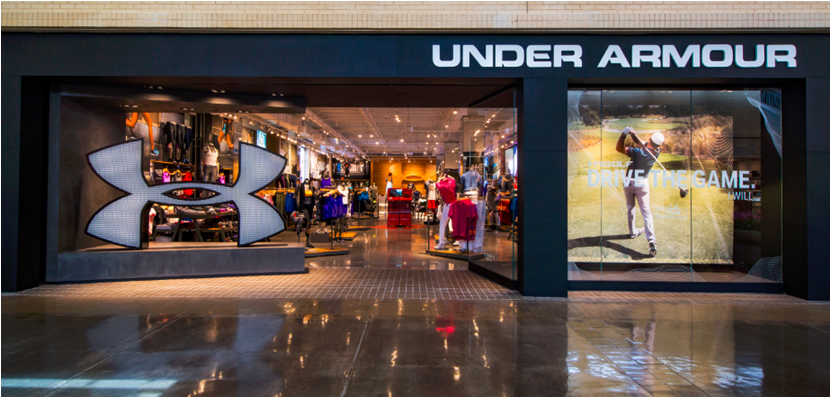 Under Armour has fallen into a bit of a rut. The company, which has taken a hit to sales amid the pandemic, said in November it was under federal investigation over its accounting practices. On October 22, the company's founder, Kevin Plank, announced he would be stepping down from his role as CEO after 23 years. Plank will be replaced by COO Patrik Frisk. It has had massive problems in the past, including $1.3 billion in leftover merchandise in 2018, shrinking popularity among teens, and a scandal involving executives going to strip clubs and expensing the outings. We traced the rise and fall of Under Armour, from its early days as a powerful force in the athletic-wear sphere to its current struggles and decline. Under Armour is in trouble.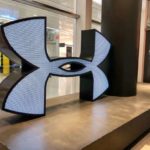 While similar sports retailers like Nike and Adidas are also posting slumping sales amid the impact of the coronavirus pandemic, Under Armour was already sputtering well before the outbreak. Recently, things have taken another turn for the worse. The Maryland-based sportswear giant said in May it was working to extend payment terms for its athletes as a measure to cut costs amid dropping sales. On Saturday, the company announced it is terminating its partnership with UCLA, a $280 million deal signed in 2016 and meant to last 15 years. In a statement to Fox Business, the company cited not receiving marketing benefits "for an extended time period" that the company had paid for. This isn't Under Armour's first rough patch. The company has experienced many ups and downs in its over 20-year history. On October 22, its longtime leader Kevin Plank announced he would be stepping down from his position as CEO. The company announced that Plank, who founded the company in 1996, would become executive chairman and brand chief while his CEO duties would be taken on by COO Patrik Frisk.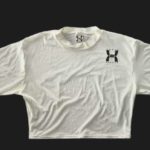 The company also said in November it was under federal investigation over its accounting practices. In 2018, the level of the company's leftover inventory grew 11% to $1.3 billion in the second quarter. That same year, Under Armour executives were embroiled in a scandal that involved going to strip clubs on the company's dime, a practice that was officially banned in February 2018, The Wall Street Journal reported. Under Armour announced a turnaround plan to revive the brand in December 2018. In September, the company announced in a press release that Stephanie Pugliese would take over the role of president of Under Armour North America as part of a strategy to further establish the presence of the brand in the company's home market. Under Armour wasn't always the trouble-stricken brand that it is today. It once seemed poised to overtake the sportswear market in what seemed like a true Cinderella story. From its rise to a once-$15 billion athletic-apparel empire and its eventual slow decline, here is the complete story of Under Armour so far.
US's Top Cybersecurity Agency's Threw cold water on Trump's Fraudulent Claim on Election Results
The US's top cybersecurity agency publicly debunked President Donald Trump's latest claims about rigged election results on Wednesday.
As election projections show Democratic presidential nominee Joe Biden securing a lead over Trump in the battleground states of Michigan and Wisconsin, the president went on offense and began insisting that mysterious ballots cast for Biden were being found "all over the place" and used to fraudulently swing the race in Biden's favor.
"They are finding Biden votes all over the place — in Pennsylvania, Wisconsin, and Michigan. So bad for our Country!" Trump wrote in a tweet Wednesday morning.
"They are working hard to make up 500,000 vote advantage in Pennsylvania disappear — ASAP. Likewise, Michigan and others!" he added in a subsequent tweet that Twitter labeled as promoting misinformation about the electoral process.
As Business Insider reported, there is no evidence of widespread voter fraud or election fraud. And given the partisan divide in how Americans chose to vote — Democrats favored voting early and via absentee ballots, while Republicans turned out in larger numbers on Election Day — experts anticipated that the candidate who led the statewide vote in battlegrounds on election night may not be in the lead as additional ballots were counted and processed.
On Wednesday, as Trump ratcheted up his rhetoric claiming the election was rigged against him without evidence, the Cybersecurity and Infrastructure Security Agency, the US's top cybersecurity agency, stepped in.
CISA marked the following claim as a "rumor": "If results as reported on election night change over the ensuing days or weeks, the process is hacked or compromised, so I can't trust the results."
The "reality" is that "election results reporting may occur more slowly than prior years," CISA said, adding, "This does not indicate there is any problem with the counting process or results. Official results are not certified until all validly cast ballots have been counted, including ballots that are counted after election night."
In fact, Business Insider previously reported, the 2020 election concluded with very few issues even in the face of a devastating pandemic and a president who routinely elevated conspiracy theories that undermined the process. That's largely because of the now-widespread use of paper ballots and voting machines with verifiable paper trails, experts said.
And in terms of foreign interference, US officials undertook a wide-ranging effort to warn Americans of attempts by hostile adversaries to meddle with the election. Paul Nakasone, the director of the National Security Agency, also told reporters that in the days and weeks leading up to Election Day, foreign powers interfered less than they had before the 2018 midterm elections.
That said, officials warned of an uptick in foreign interference in the coming days, particularly if the election results are close. The New York Times also reported that officials believed Russia would interfere to help Trump in part by "exacerbating disputes around the results."
"There is a period of time where we are watching this carefully to see if our adversaries are going to try to take advantage if there is a close vote," Nakasone said.
Two crossed lines that form an 'X'. It indicates a way to close an interaction, or dismiss a notification.
Harley-Davidson Eliminating 700 Jobs Worldwide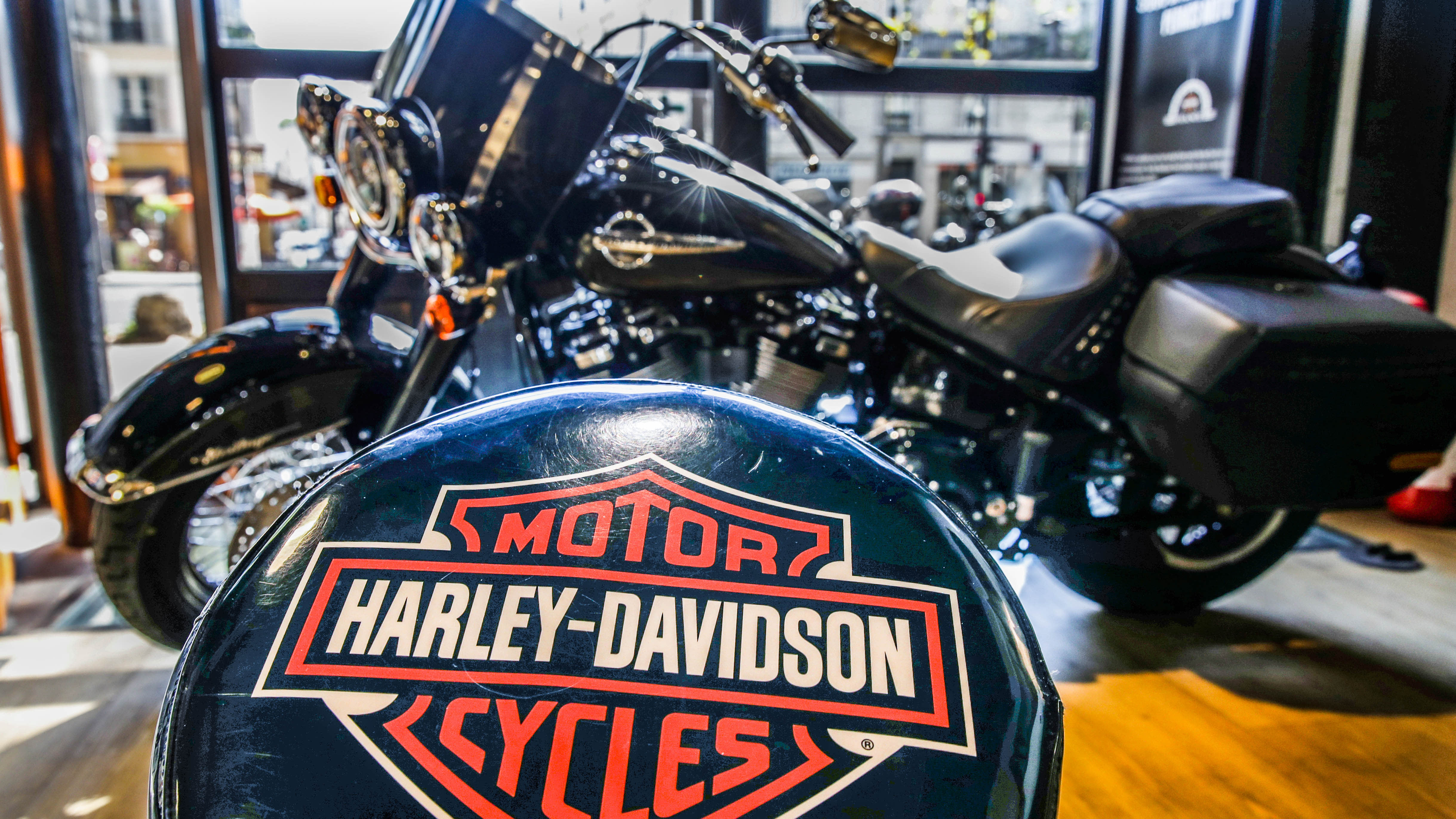 Milwaukee, July 09, 2020 (GLOBE NEWSWIRE) — As part of its comprehensive efforts to rewire the company (The Rewire), announced in April, Harley-Davidson, Inc. ("Harley-Davidson") (NYSE:HOG) today announced an overhaul of its global operating model, including a leaner, more nimble organization. Initial Rewire actions are expected to result in restructuring costs of approximately $42 million in Q2 2020. The company plans to share a summary of The Rewire, including additional costs and expected savings, when it releases its Q2 results.
"The Rewire is progressing very well and substantial work is being done to eliminate complexity and get Harley-Davidson on a path to winning. Our new operating model is simpler, more focused, and enables faster decisions across the entire company," said Jochen Zeitz, chairman, president, and CEO of Harley-Davidson. "We've taken a hard look at our entire set up, our spending, and how work is getting done, to align our operating model, structure, and processes. We are building a strong foundation to drive a high-performance organization in the future."
Changes to the company's operating model under The Rewire include all areas of the business globally, from commercial operations to corporate functions. Changes have also occurred in the company's leadership, among them, Chief Financial Officer John Olin has left his role, with current VP Treasurer, Darrell Thomas assuming duties as interim CFO until a successor is appointed. "Significant changes are necessary, and we must move in new directions. I thank John for his commitment during his 17 years with the company and for his leadership during this critical phase of The Rewire," Zeitz said.
Overall, the streamlined structure requires approximately 700 fewer positions across the company's global operations with approximately 500 employees expected to exit the organization through 2020.
The key elements of The Rewire:
Enhance core strengths and better balance expansion into new spaces
Prioritize the markets that matter
Reset product launches and product line up for simplicity and maximum impact
Build the Parts & Accessories and General Merchandise businesses to full potential
Adjust and align the organizational structure, cost structure, and operating model to reduce complexity and drive efficiency to set Harley-Davidson up for stability and success
The company plans to share a comprehensive summary of The Rewire actions and financial impacts when it releases its Q2 results later this month. The Rewire will set the foundation for a new 2021-2025 strategic plan which is expected to be shared in Q4.
Company Background
Harley-Davidson, Inc. is the parent company of Harley-Davidson Motor Company and Harley-Davidson Financial Services. Since 1903, Harley-Davidson has stood for the timeless pursuit of adventure and delivered freedom for the soul with an expanding range of leading-edge, distinctive and customizable motorcycles in addition to riding experiences and exceptional motorcycle accessories, riding gear and apparel. Harley-Davidson Financial Services provides financing, insurance and other programs to help get Harley-Davidson riders on the road. Learn more at www.harley-davidson.com.
Cautionary Note Regarding Forward-Looking Statements
The company intends that certain matters discussed in this press release are "forward-looking statements" intended to qualify for the safe harbor from liability established by the Private Securities Litigation Reform Act of 1995. These forward-looking statements can generally be identified as such because the context of the statements will include words such as the company "believes," "anticipates," "expects," "plans," "may," "will," "estimates," "likely" or words of similar meaning. Similarly, statements that describe or refer to future expectations, future plans, strategies, objectives, outlooks, targets, guidance, commitments, or goals are also forward-looking statements. Such forward-looking statements are subject to certain risks and uncertainties that could cause actual results to differ materially, unfavorably or favorably, from those anticipated as of the date of this press release. Certain of such risks and uncertainties are described below. Shareholders, potential investors, and other readers are urged to consider these factors in evaluating the forward-looking statements and are cautioned not to place undue reliance on such forward-looking statements. The forward-looking statements included in this press release are only made as of the date of this press release, and the company disclaims any obligation to publicly update such forward-looking statements to reflect subsequent events or circumstances. Important factors that could affect future results and cause those results to differ materially from those expressed in the forward-looking statements include, among others, uncertainties regarding the company's ability to effectively execute the company's restructuring activities within expected costs and timing and to successfully implement the elements of The Rewire.
Click here to view the original web page at Harley-Davidson Eliminating 700 Jobs Worldwide
Driver accused of speeding away from hit-and-run with motorcycle on front bumper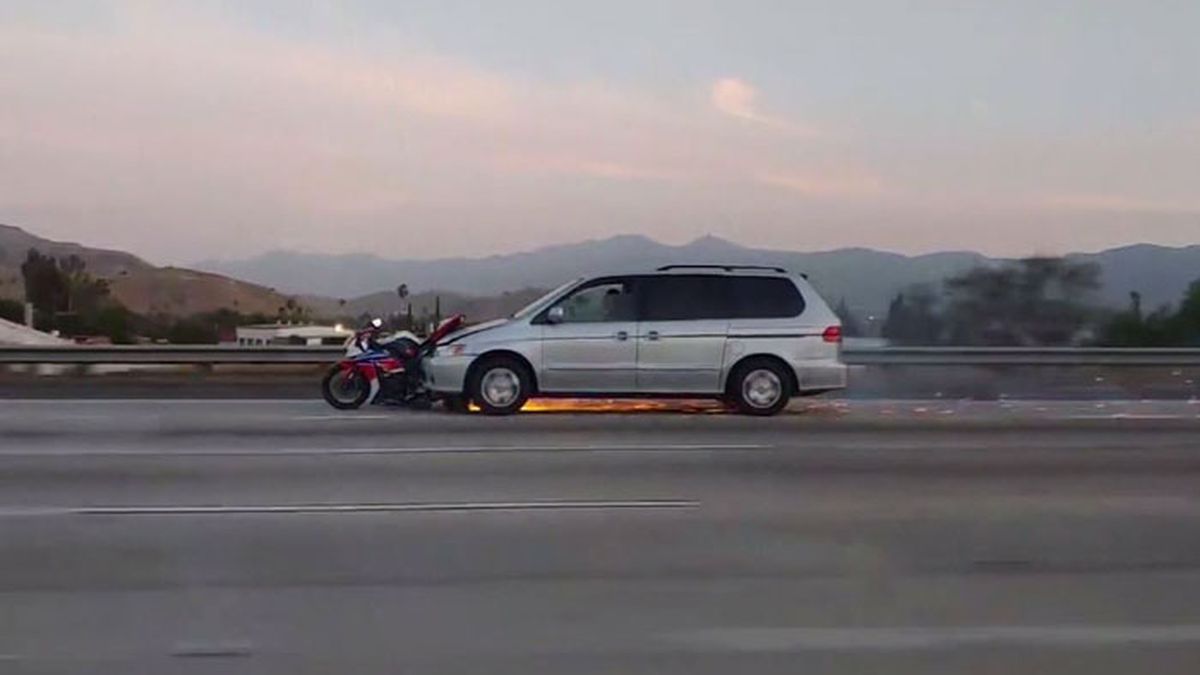 A 25-year-old man from California was arrested on charges of felony hit-and-run after a video allegedly showed him speeding away with a motorcycle wrapped around his vehicle's bumper.
George Valentin, 25, was taken into custody Saturday after he admitted to being the driver involved in a crash the day before with a motorcycle on the 91 Freeway in Corona, California, according to the California Highway Patrol.
The scene unfolded about 7 p.m. Friday when Valentin, driving a minivan, allegedly struck motorcyclist Chain Arunritthirot and failed to stop. Arunritthirot said he was suddenly hit from behind and landed some 200 feet away from the collision in the middle of the freeway, confused about what had happened.
"Oh, this guy did try to kill me. Those weren't the words. There was a lot more foul language. I feel like it was intentional like he hunted me down," Arunritthirot said.
Valentin continued on the freeway with Arunritthirot's motorcycle still attached to his minivan before he eventually crashed into a fence and fled on foot into a drainage wash, according to CHP.
Valentin continued on the freeway with Arunritthirot's motorcycle still attached to his minivan before he eventually crashed into a fence and fled on foot into a drainage wash, according to CHP.
Motorists Natalie Duran and Will Ross captured cell phone video of the minivan with the motorcycle lodged in its front bumper, trailing a fiery stream of sparks as it sped along the freeway. They followed the van and called CHP.
"My first thought was 'Oh, my gosh, where is this poor motorcyclist? What happened to him?'" Duran said.
Arunritthirot was not seriously injured in the crash but complained about pain to his arms and legs. He was wearing a helmet, gloves, and boots at the time of the incident. CHP estimates he was traveling about 65 miles per hour when the minivan hit him going 70 mph.
"The best I kept trying to describe to the 911 operator was it literally looked like I witnessed something out of a movie. It was shocking. I've never seen anything like it before in my life," Ross said.
Arunritthirot says he is still in shock over the incident. He would like to meet and thank Duran and Ross for capturing the crash on camera and leading police to an arrest. He would also like to thank the man and woman who helped him off the freeway.
"My main thought is my poor bike. It's never gonna be OK again. I can't fix it," Arunritthirot said.
CHP says they don't believe alcohol or drugs to be factors in the case at this time. The incident is still under investigation.
Click here to view original web page at Driver accused of speeding away from hit-and-run with motorcycle on front bumper